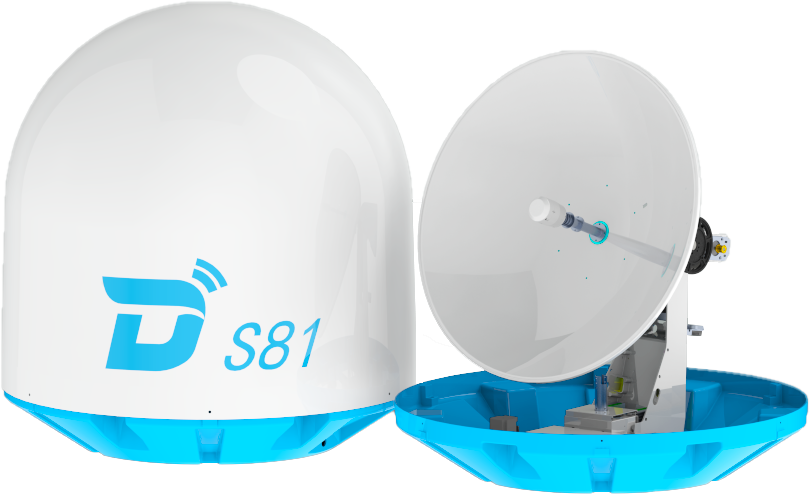 Ditel S81 is a marine satellite TV antenna system that has excellent satellite signal reception capability with a 83cm (32.70") reflector. With Pre-programmed satellite datebase, users can select satellite via PC or Phone APP after connected with the USB, Wifi interface design ACU. It is widely used in anywhere in the world as long as the area of Minimum EIRP is over 44dBW. 3-axis is preferred in the vicinity of the equator.

• Friendly multi-platform user interface.
• The function of switching satellites globally.
• LNB compatible with circular polarization or linear polarization.
• High performance and high stability.
• Automatic tracking and skew control.
• Uninterrupted viewing of full Ku-band channel.

| | |
| --- | --- |
| Radome dimension(WxH) | 104.6*102cm (41.18*40.16 inch) |
| Reflector diameter | 83cm (32.7 inch ) |
| Weight | 55kg (121.2 lbs) |
| Radom colour | White/Blue |
| Radom material | ASA/SMC |
| Environmental humidity | 0-95% |
| Operating temp. range | -20 ~ 70℃ |
| Platform | 3-axis stabilized, 4-axis tracking |
| AZ range/ tracking rate | 0°~680°/ ±8°@15S |
| EL range/ tracking rate | -10°~110°/ ±20°@6S |
| Roll range/ tracking rate | ±35°/ ±20°@6S |
| Skew range/ tracking rate | ±167.5°/ ±20°@6S |
| Initial lock | ≤2Min |
| RX frequency | 10.7~12.75GHz (Ku-band) |
| Min. EIRP | 44dBW |
| Polarization | Linear polarization |
| Antenna type | Ring focus antenna |